Assessment and Reporting
Assessment is integral to high quality teaching and learning at Oxted School. It provides the evidence that our teaching is appropriate for all our students' individual needs and that learners are making at least expected progress.
Our full assessment policy can be found here
Students receive reports 2-3 times per year. Key dates for each year group can be found on the year pages of the whole school bulletin here
Below are the criteria used in these reports with explanations.
GCSEs are grade on the 9-1 scale. Our Flight Path Grades (FPGs) and Oxted Benchmark Grades (OBGs) also use this system. This diagram shows how the new 9-1 grades equate to the old system.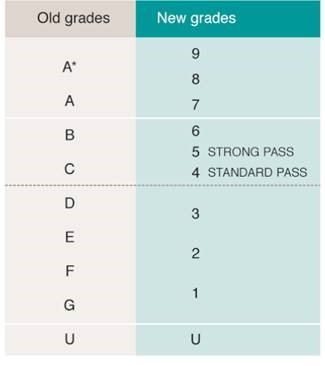 During your child's time at Oxted, it will become progressively more difficult to achieve a particular grade. For example, the criteria to achieve a 5 in English in Year 8 will be harder than in Year 7. Therefore, if your child were to achieve a 5 consistently, this would mean they are making progress as they are sustaining that grade. If they were to continue in this way, they would then achieve a 5 in their GCSE.