Arrangements for GCSE, AS & A-Level Exams 2022
Though we hope exams will go ahead as planned, if the 2022 exams cannot go ahead due to further COVID disruption, grades will instead be determined by teachers, using a Teacher Assessed Grade (TAG) approach. Ofqual have published their decisions about this approach following a public consultation, which included students. This means that teachers will gather evidence, through assessments, to help them determine Teacher Assessed Grades (TAGs) if exams do not take place.
More information can be found here.
A summary of how we will determine TAGS if they are needed is here:
Non-exam assessments will be completed wherever possible in the usual way
Assessments being used for TAGs will take place in exam-like conditions
If exams should be cancelled, the school will publish full guidance on the process being used
Evidence that may be used as part of TAGs can be found in the table below: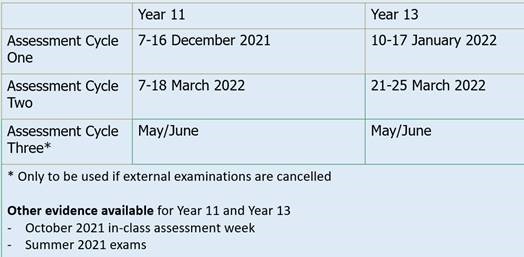 Advance Information
On Monday 7 February, Ofqual and the exam boards released Advance Information about the Summer exams. Please see this document and you can also find more information here.
Individual subjects will share any relevant information with students and we will also add relevant information below.
For your reference, please find a list of exam boards studied here