Enrichment
Enrichment Programme
New Year 7 Club - Ukulele Club
Ukulele club will be starting after half term every Monday lunch time for Year 7. Students do not have to play or own a ukulele in order to join and will be learning pieces with our sixth form ukulele players to perform in the summer concert. If you would like to take part come to MU2 every Monday lunch time to join in.
PRIDE Club
Who are we?
Oxted PRIDE Club is a judgement free safe space for any LGBTQIA+ individuals and / or people who are questioning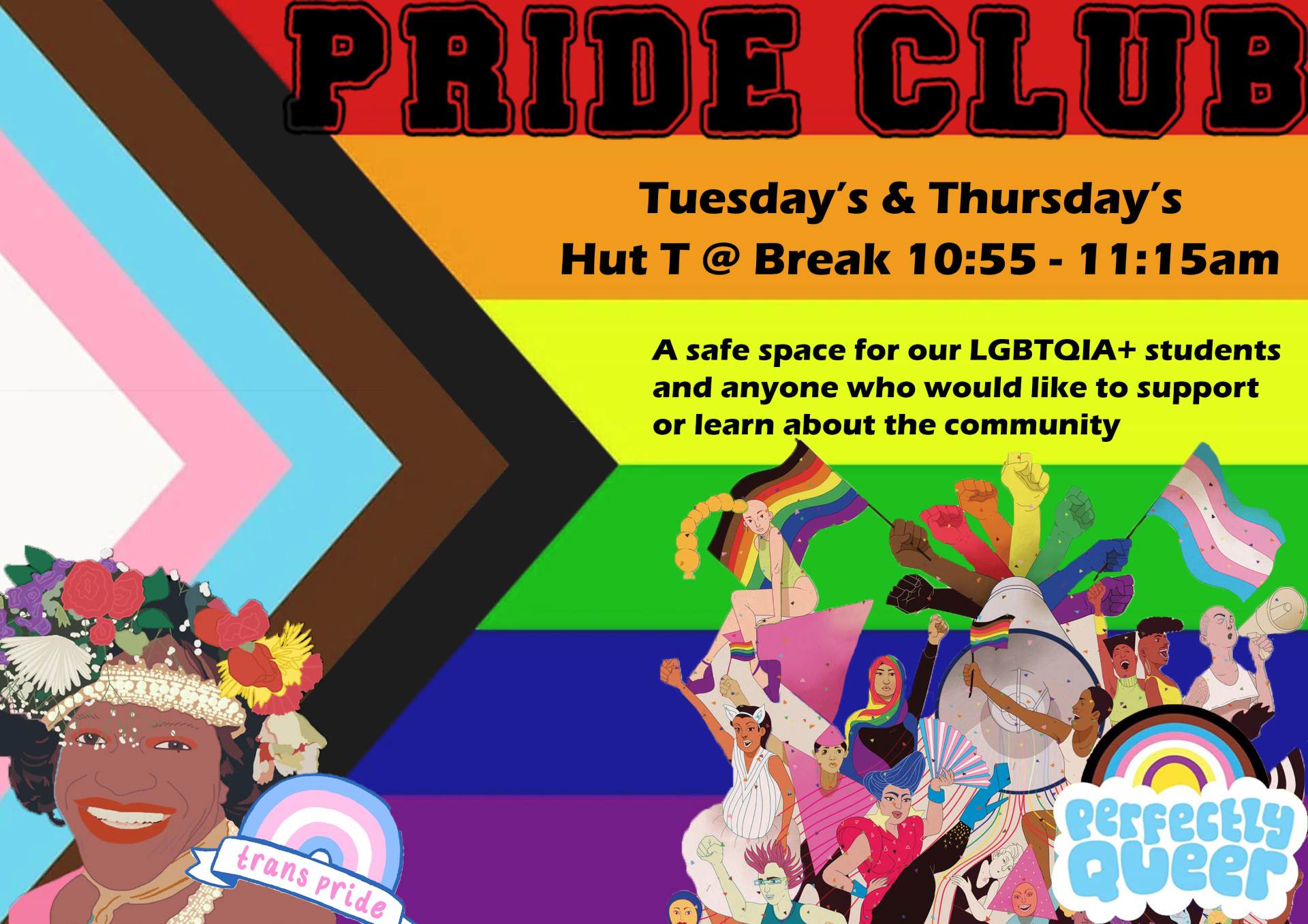 themselves, are ally's to the community or are just curious to learn about Queer culture and history.
PRIDE club meets every Tuesday and Thursday break time, for all year groups, in Hut T in the Drama building. It is a welcoming and relaxing environment where you can meet people from the community, we also have informative and fabulous presentations each week about Queer history and icons!
Why do we exist?
PRIDE Club exists because, historically, the LGBTQIA+ community has been persecuted for just existing, now society is moving forward and realising how important the community is, it is just as (if not more) important that you young people have a safe space to be reminded of how incredible you are!
PRIDE Club is open to everyone, however, we would like to emphasise that first and foremost it is a safe space created for, and by LGBTQIA+ and questioning people, so please respect that. We also encourage you to ask for pronouns or share your own (if you feel comfortable) when at PRIDE club as not everyone is as binary as you may perceive!
PRIDE Club is run by Miss Eardley (Miss. E in the VI department) and Miller (English and Media teacher) students can reach out to them if they have any questions or comments. We also have a fantastic Sixth Form PRIDE Club Committee who are there to help students with anything LGBTQIA+ related. They are recognised by their Pride Committee badges or in Hut T every Tuesday and Thursday at break time.
Year 10 and Year 11 Science Drop-In Sessions
Inclusion Support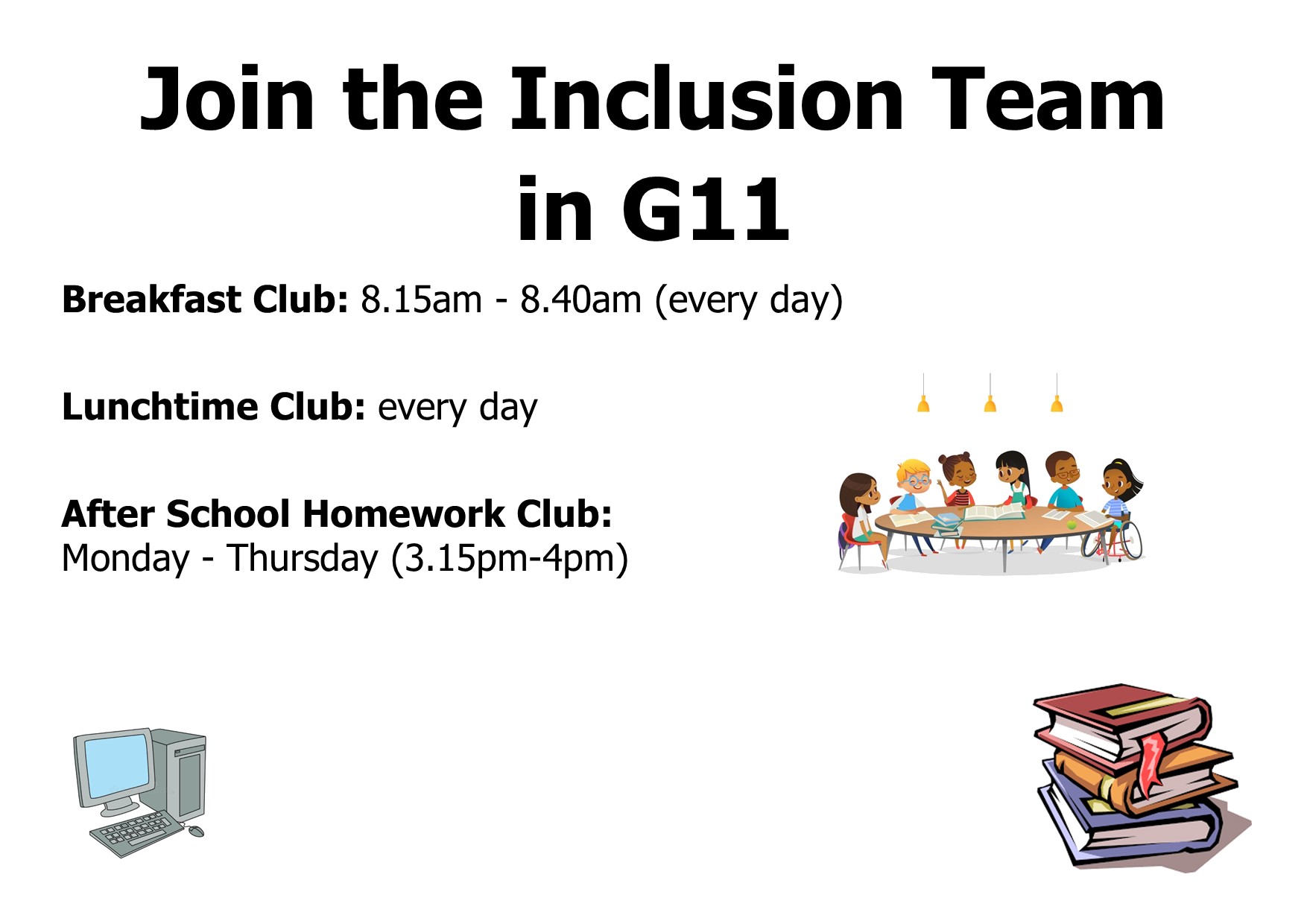 Homework Club
Enrichment in Education
In simple terms enrichment makes something more meaningful, substantial, or rewarding. Enrichment improves something.
In education Enrichment is the many things that students have the option to and choose to do beyond their academic pursuits and the normal requirements of their life outside of the class room. It can also be as basic as the climate and environment that a student experiences – for example completing work experience, or participating in a school visit abroad.
What is considered an enrichment activity?
It is not:
An activity that may be considered a mandatory element of a centre's PSHE or pastoral care programme
An activity that may be considered a mandatory element of a course of academic study e.g. field trips, coursework, attendance at supplementary lectures etc.
An activity that leads, in part or whole, to a recognised academic qualification
An activity that may be considered part of preparation for application to post GCSE or post A-Level education
It is:
Enrichment activities - sports clubs
Subject clubs
Competitions
Sponsored walks
Work experience
Guest talkers and lecturers
Topic based Assemblies
Film nights
Non-curricular trips – e.g. House of Commons
Choirs and orchestras
Careers advice
D of E
Charity/community work
Links with the community – mentors and speakers
School environment – décor etc.
Why is Enrichment Important?
Helps prepare a rounded child for the real world
Develops the individual and can focus their work effort
Shows commitment and belief in the student from the school
Assist with the preparation of University Personal statements
Build a CV and helps at Job and work experience interviews
Helps children get the most out of life!
Ski Trip
Geography Trip - Iceland
Virtual Year 8 Camp (Lockdown)